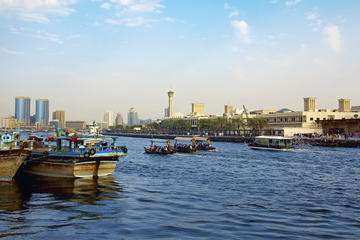 Cutting through the heart of Dubai, the seawater Dubai Creek winds its way from the trading port on the Gulf to the Ras al Khor bird sanctuary on the desert edge of Dubai.
Old-fashioned boats called dhows criss-cross the water from Bur Dubai on the left bank to Deira on the right. Catch a water taxi dhow, called an abra, to get from A to B, or sign up for a romantic sunset dhow cruise traveling further upstream.
A cruise reveals the glittering high-rise buildings lining the Creek, passing under several bridges to reach the Creekside gardens. Or take a stroll along the paved promenade lining the Creek on the Bur Dubai side of the waterway.
Click here for: