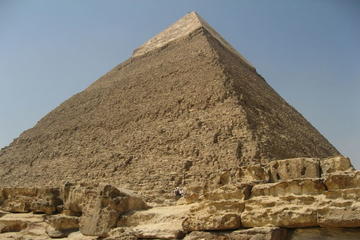 The sole survivor of the Seven Wonders of the World, the Pyramids of Giza still live up to more than 4,000 years of hype. Their extraordinary shape, geometry and age render them somehow alien constructions; they seem to rise out of the desert and pose the ever-fascinating question, 'How were we built, and why?'
The oldest and biggest pyramid is that of Cheops, and you can go inside this one if you don't suffer from claustrophobia.
Once they were covered in smooth white marble but that was taken for temples over the centuries, but you can imagine how even more impressive they would have been then. Climbing on the pyramids is strictly banned.
The sole survivor of the Seven Wonders of the World, the Pyramids of Giza still live up to more than 4,000 years of hype. Their extraordinary shape, geometry and age render them somehow alien constructions; they seem to rise out of the desert and pose the ever-fascinating question, 'How were we built, and why?'
Click here for: