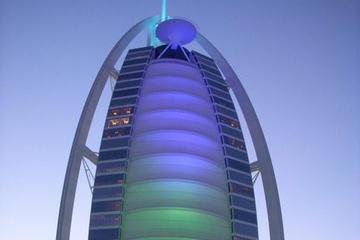 Dubai's signature landmark is the Burj Al-Arab, the famous sail-shaped hotel facing the Arabian Gulf. The world's only seven-star hotel, it's truly the stuff of James Bond movies and superstars. Packed with bars and restaurants, the hotel is a world within a world, with guests enjoying every luxury service you can imagine in their opulent suites.
For most of us, catching that iconic shot of the hotel jutting out to sea is the closest we'll get to the Burj Al-Arab. Mere mortals can visit, but before you can even reach the front door you have to make a booking in advance and a hefty fee is charged to sightsee.
A better way to visit is by making a reservation at one of the hotel's many bars or restaurants. Al Muntaha restaurant and the adjacent Skyview Bar are the venues to choose for soaring panoramic views.
Click here for: